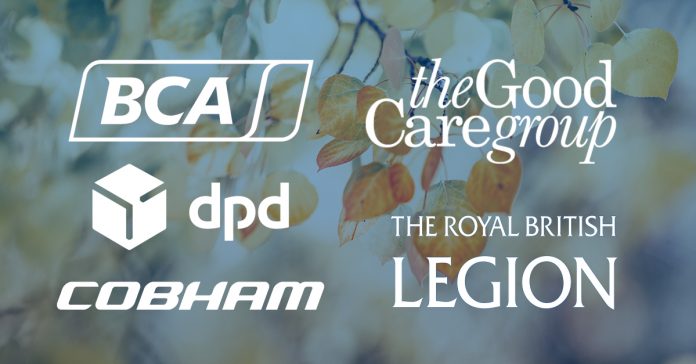 It's officially September; and this month often comes with a 'back to school' vibe. Many of us seek to make a change as we move into autumn; so, if you're on the lookout for job opportunities this September, you've come to the right place. 
We're proud to work closely with some of the nation's leading employers. And this month, we've picked out some of the top companies that are hiring. From the Royal British Legion, DPD and Ocado; to The Good Care Group and BCA. 
If you're looking for a new job, read on to find out what roles these organisations have on offer this September. 
The Royal British Legion
Across the country, The Royal British Legion is there to support our Armed Forces community. It currently has 235,000 members, 110,000 volunteers and a network of partners; all helping it give support wherever and whenever it's needed. 
As the largest charity of its kind, the Legion provides lifelong support to serving and ex-serving personnel and their families. And the good news is, it's looking for talented people to join its teams in a range of different roles. 
This top employer is looking for people with a desire to provide a great customer service and support; people who enjoy and thrive in working in teams and with others; and people who are passionate about supporting the Armed Forces community and honouring their contribution. 
Currently, the Legion is hiring for a Catering Manager, Wellbeing Lead, Residential Lead, Physiotherapist, Dementia Lead and more. If you're after a role where you can be the best you can, while also learning and developing, then get applying today. 
Browse all jobs at The Royal British Legion 
DPD
If you're hard working, a good driver and want to be your own boss, DPD may have the role for you. This top employer runs an Owner Driver Franchise scheme, where you can run your own business and be part of the UK's favourite parcel delivery company.  
Your upfront entry fees consist of a £400 franchise fee and a fully refundable vehicle deposit of £1,000 or £2,000 (dependent on your credit score). In order to qualify, you need to be over the age of 21 and have held a full UK license for at least 12 months; with no more than six points. 
Alongside this, you'll benefit from flexible working, ongoing support, the latest technology to help you plan your routes and payment every four weeks. Plus, you don't need any experience to get started. DPD provides full training, so you can quickly get to grips with the ins and outs of the job. 
Currently, these roles are being advertised in Stoke-on-Trent, Bristol and Cornwall; but keep an eye on DPD's Company Profile to ensure you don't miss any job opportunities this September. 
Browse all jobs at DPD 
The Good Care Group
This top employer is a leading provider of home care; offering specialist training, dedicated support, and great prospects for its workforce. Its team includes specialist care advisors, condition experts, specialist dementia nurse and experienced regional managers; all of whom are based around local and regional care teams and a 24/7 operational service centre. 
The company's overall aim is to help its clients live at home for longer. In the past four years, The Good Care Group has won, and been shortlisted for, more health and care awards than any other UK home care provider. And the great news is it is advertising job opportunities this September. 
In fact, The Good Care Group is looking for live-in carers to look after clients across England and Scotland. You'll work in one household and receive intensive training before your first placement. This top employer pays according to your skills and experience; plus, you'll have a dedicated care manager to support you and your client. 
The company is ideally looking for people with a minimum six months' professional care experience. However, it is also considering people in occupations that may have been impacted by COVID-19; including cabin crew, hospitality and leisure. To find out more, follow the link below! 
Browse all jobs at The Good Care Group 
BCA Logistics
For more job opportunities this September, you may want to consider BCA Logistics; the leading provider of vehicle remarketing logistics services for the automotive sector in the UK. This top employer offers a range of services and solutions to support our customers throughout the entire process of vehicle inspections, collection and deliveries, vehicle demonstrations and refurbishment.  
Operating on a nationwide scale, BCA Logistics employs over 100 vehicle inspectors and 1,000+ drivers; all of whom inspect or move over 100,000 vehicles every year. What's more, the company is currently hiring for more Vehicle Collection and Delivery Drivers to join its team across all corners of the UK.
In this role, you'll safely collect, inspect and deliver vehicles on trade plates from various locations anywhere within the UK. It will involve planning your own travel between drop offs and collections; whether that's by utilising public transport, or tapping into the company's large network of existing driver contractors.
Experience is not essential but you must have good customer service skills, knowledge of vehicle components and behave in a professional manner. In return, this top employer offers competitive pay and flexible working; as well as providing all the necessary equipment you need. So, why not get applying today? 
Browse all jobs at BCA Logistics 
Cobham Plc
Established in 1934 by Sir Alan Cobham, this top employer delivers an innovative range of technologies and services; and its aim is to become the global leader in pioneering aerospace and defence systems. 
As an international company, it employs 12,000 people and prides itself on its empowering culture; derived from the trust it places in its employees to bring innovation and passion to deliver sound solutions to clients and partners. 
The great news is, Cobham Plc is advertising some exciting job opportunities this September. These are based in Dorset and Buckinghamshire; and range from roles such as Project Managers and Manufacturing Engineers; to HSE Advisors and Financial Accountants. 
If you're keen to work for this top company, check out the roles it's advertising this September. 
Browse all jobs at Cobham Plc 
Looking for job opportunities this September?
If you're looking for a new role, we understand that it's a little stressful right now. That's why we're always on hand to offer support with our helpful guides. From insights on how to stand out in a crowded job market; to job searching tips during COVID-19, look no further than our Career Advice Centre for the latest advice. 
Plus, don't forget to register your CV on our site and sign up for Job Alerts. That way, you'll never miss out on the latest job opportunities this September. Good luck!
Related Career Advice articles